Our History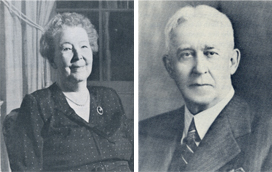 Norwin Sherwood Bean was born in Manchester, New Hampshire in 1873. His wife, Elizabeth Nichols Bean, was born in 1874 and was a lifelong resident of Amherst. The Beans maintained homes in both Manchester and Amherst, New Hampshire and the two communities benefit from the charitable foundation they created.

Norwin Bean graduated from the Massachusetts Institute of Technology with a degree in electrical engineering, but spent most of his professional career in banking. He served as Treasurer and Chief Executive Officer of Manchester Savings Bank for twenty-five years. He was a prominent civic and business leader, serving as a director of Amoskeag Industries, the Manchester Gas Company, New Hampshire Insurance Company, and Public Service Company of New Hampshire. His charitable activities included Manchester Community Chest, Family Service Society, the Institute of Arts and Science, and the Currier Gallery.

Elizabeth Bean was a member of the Amherst Congregational Church and active in many charitable organizations, including the Amherst Visiting Nurse Association and Amherst Historical Society.

Subject to a life estate for Mrs. Bean, the Foundation was established under the will of Norwin Bean who died in 1957. With a substantial addition provided by his wife, the Norwin S. and Elizabeth N. Bean Foundation became active upon her death in 1967. Mr. and Mrs. Bean had no children. At the time of its creation, the Bean Foundation had assets of just under $4 million.