News
Bean Foundation celebrates 50th anniversary
The Norwin E. and Elizabeth N. Bean Foundation trustees celebrated the 50th anniversary of the Foundation at its annual meeting on November 14, 2017, at the Palace Theatre. They were joined by grant recipients, area non-profit leaders, area funders, community leaders, and past and present trustees to hear Mr. Bean, portrayed by Al Heidenreich, tell how the couple decided to leave their estate in a trust to benefit the residents of Amherst and Manchester, New Hampshire. Mrs. Bean was portrayed by Barbara Heidenreich. Senior Trustee Tom Donovan explained how the trust was set up and how the board of trustees was formed. As examples of the grants that have been awarded by the Foundation, former trustee Paul Spiess spoke about the Clock Tower Renovation Project in Amherst, CASA Founder Marty Sink introduced CASA volunteer Garrie Stoutimore to tell about her experience representing a CASA child, and President and CEO Peter Ramsey of the Palace Theatre told about the Bean Foundation support that made it possible to renovate and reopen the Palace Theatre in 1974. In closing, representatives of dozens of nonprofits that have been funded by the Bean Foundation over its history stepped to the stage and announced the names of their organizations, creating a picture of the diverse age groups, skills, ethnic groups, interests, and subject areas which have been impacted by the generous gift of Norwin and Elizabeth Bean since 1967.
---
A Stark Donation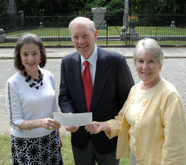 By David Lane/Union Leader
Photo credit: David Lane

6/28/12—Selma Naccach-Hoff, chair of the Bean Foundation, left, presented a $10,000 donation to former Gov. Steve Merrill, co-chair of the Gen. John Stark Gravesite Restoration Project, and Pat Howard, president of the Friends of Stark Park, in front of the Stark family gravesite in Manchester on Thursday.
---
Crisis Response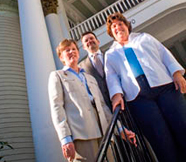 "In response to community concerns about a crisis in affordable housing in Manchester, Trustees of the Norwin S. and Elizabeth N. Bean Foundation have targeted grant money each year since 2002 toward four key housing-related organizations, one of which is NeighborWorks Greater Manchester."
---
"Quiet" capital campaign for teen center and transitional living home
Child and Family Services would like to thank the following donors who have contributed over $357,000 toward the renovation of our 99 Hanover Street Teen Resource Center and the new transitional living apartment house on Union Street, Manchester.
Teen Resource Center: The Gibney Family Foundation, St. Mary's Bank, Cogswell Benevolent Trust, Goldie Halpin Foundation, Madalaine von Weber Trust, C.A. Hoitt Furniture, Norwin S. and Elizabeth N. Bean Foundation, Citizens Bank Foundation and Susan Moran.
Transitional Living Program: TD Banknorth, Greater Manchester Charitable Trust, Cogswell Benevolent Trust, Robert L. Chiesa Homeless Youth Challenge Grant from the Agnes Lindsay Trust, Cobb Hill Construction, C.A. Hoitt Furniture, Norwin S. and Elizabeth N. Bean Foundation, Wadleigh, Starr Law Firm and partners, Samuel P. Hunt Foundation.
To date we have raised nearly 65% of the goal for these two projects. If you are interested in learning more about how you can help Child and Family Services serve the needs of homeless, at-risk youth in Manchester area by contributing toward these new facilities, please contact Ruth Zax, drector of development, zaxr@cfsnh.org.
---
Award Winning Support
Tom Donovan receives a plaque from the President/CEO of Child and Family Services, Michael Ostrowski, thanking the Bean Foundation for its support.
---
New Program Helps Immigrant Girls Gain Confidence
By Kathy Remillard/Union Leader Correspondent
Photo credit: Kathy Remillard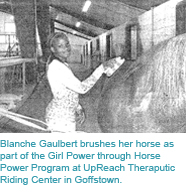 Continue Reading
---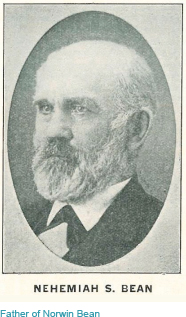 Nehemiah Bean and the Amoskeag Steam Fire Engine
By Aurore Eaton/Union Leader

5/8/12, 5/15/12, 5/22/12—Looking Back: The Amoskeag Manufacturing Company's Machine Shop in Manchester, New Hampshire rolled out its first steam locomotive engine on March 1, 1849, and after a successful run in this business ceased locomotive production in February 1858. In July Ezekiel Straw was put in charge of the operations. This made him the top administrator for the entire company, as he was already managing the real estate, the water power system, and textile manufacturing. Straw, a civil engineer, was always looking for innovative ways to increase the company's reach and profitability, especially if it involved technological innovation. Under his leadership, the Machine Shop would next take on the exciting challenge of manufacturing steam fire engines.
Download PDF